---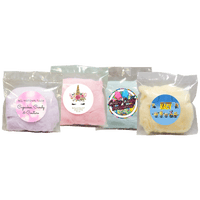 Cotton Candy - Clear Bag with Custom Sticker - 1 oz
Rainbow Cotton Candy
Pre-packaged Cotton Candy
1 oz clear bags
One flavor per bag
Select up to 4 flavors per case
Size: approximately 8 in x 6 1/2 in
Great for parties, events, resale, and retail
Add a customized sticker to your bags of cotton candy!  Make them personal by uploading a j-peg or png image. Images are printed on a glossy white 3 inch circle.
(For best results images should have a white or light background)
Shelf Life: Cotton Candy is a fragile item and has a limited shelf-life. To keep your cotton candy as fresh as possible for as long as possible, we recommend storing the product in a cool, dry environment. 
When to Order: Pre-order today and put a note in checkout which delivery date you wish to have your candy delivered. Rainbow Cotton Candy cannot guarantee that delivery date but will try to deliver on or before that date. Please allow 7 days for shipping. 
Our Promise: Rainbow Cotton Candy makes all cotton candy fresh to your order specifications. You can always be assured your cotton candy will be fresh, fluffy, and delicious!  If for any reason you are not satisfied with our products please give us a call or email us.